For anyone who wants to test PGSongBook with a song from the Internet, you may use this sample song:
My new app Perfect Guitar Song Book finally arrived the App Store!
I am especially proud to announce a unique and innovative scrolling experience: Shake2Scroll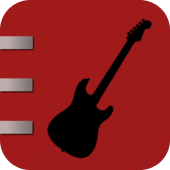 App Description
With Perfect Guitar Song Book you always have your collection of guitar songs with you. You can easily transfer songs from the computer or get them from the Internet and organize them in lists. Aditionally, the app comes up with some innovative functions.
Features
Chord Pro Songs
Songs may be entered or copied from the Internet as plain text or in Chord Pro format. If plain text is entered, PerfectGuitarSongBook automatically converts the song to Chord Pro format.
File Sharing
You can transfer songs from your computer to the device or open them from any other app featuring the "Open in"-Dialog.
Inspiration
Link a song from your iPod song library and play it later with only one tap.
Innovation: Shake2Scroll
No song fits on one page. How can you scroll without using your hands?
I speak from my own experience when I say that autoscrolling with a constant speed is not really usable. So I have found an innovative and exclusive solution:
Shake2Scroll is a feature, where the table on which your device lies on is turned into a foot pedal. You just have to touch the table with your foot to scroll.
Thanks to the precision of the iPhone/iPod/iPad's sensors, even the slightest touch is enough. We just want you to have both hands free for the most important: your music.
Integrity
Print your song, send them as PDF or Chord Pro file or open them as PDF on your device to export them to any app that can open PDF files.
Teamwork
PerfectGuitarSongBook can display songs on TVs or other external displays, so that even your friends don't miss out. (appropriate cable is needed)
Flexibility
Transpose your songs with only a few taps or format them with some so-called Chord Pro directives.

You can buy PerfectGuitarSongBook here