I'm glad to announce the release of a new update for PerfectGuitarSongBook!
PGSongBook 1.5 comes with a few bug fixes and one big new feature:
Recording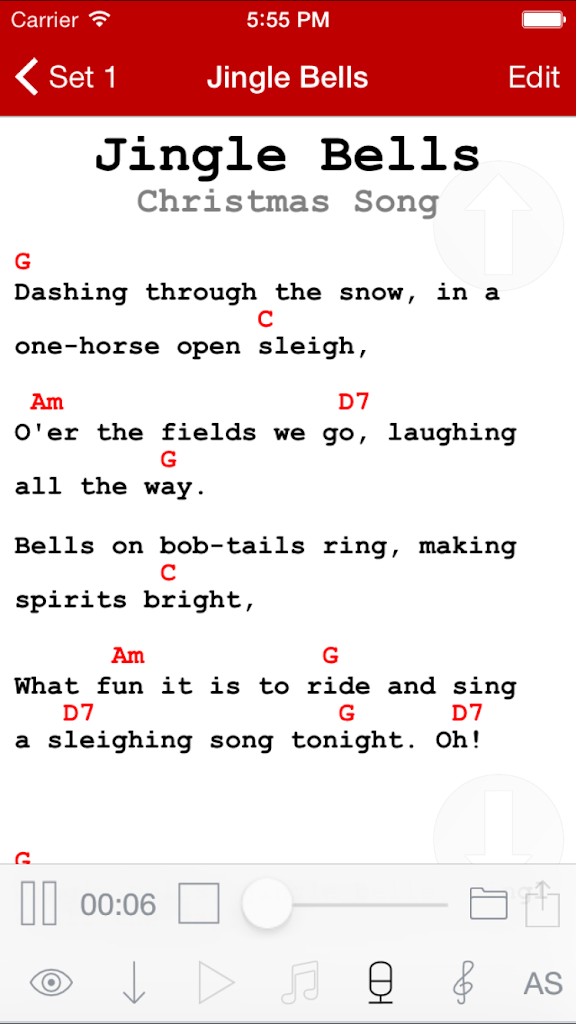 Ready for the release of IK Multimedia's iRig Mic Studio, PGSongBook finally gets recording capabilities. Multiple recordings can be saved for every song stored in PerfectGuitarSongBook.
As shown on the screenshot to the left, there now is a dedicated recording tool bar on the song screen that can be toggled via a new microphone button in the main tool bar. The new bar allows to easily start and stop recording, start playback of a recording and skim within a recording. With a button of the toolbar, a list containing all previous recordings of the same song can be brought up.
PerfectGuitarSongBook stores recordings as m4a files that can be easily exported to other applications for further processing, shared via email or copied to a PC or Mac via iTunes file sharing for import into desktop audio editing software.
Recordings can now also be set as backing tracks of songs, which means it's now possible to create your own backing tracks you can use to practise a song directly within PGSongBook.
Recording was tested to work with a variety of Microphones, including the iRig Mic Cast, iRig Mic Field and iRig Mic Studio. For best recording quality, the latter is recommended.
Please note there currently is a problem with the new version on iOS 5 and 6. If you are running one of these versions, please don't update yet. A small bug fix update is coming soon.
The update is available now on the App Store!