With Perfect Guitar Song Book, you can easily starts web searches from the app's add song dialog. Thus, you just have to set a URL, that contains placeholders for title and/or artist as start URL of the built-in web browser in the app's settings.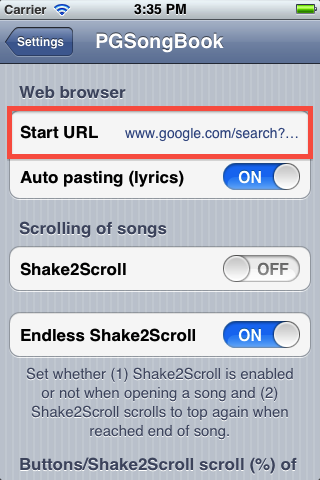 Example:
www.google.com/search?q=%a+%t+chords   
This starts a google search with the song's artist, title and the word "chords" (If you have entered artist and title in the add song screen before)
Placeholders:
%a     will be replaced with the artist
%t      will be replaced with the title
Examples for search URLs:
Just copy an URL from here and paste into the start URL field in PGSongBook's settings.
911tabs:
http://www.911tabs.com/search.php?search=%t&type=song   
Ultimate Guitar:
http://www.ultimate-guitar.com/search.php?search_type=title&value=%t   
Guitaretab:
http://www.guitaretab.com/fetch/?type=tab&query=%t   
Azchords:
http://search.azchords.com/cgi-bin/azseek.cgi?q=%t&Search=Go%2521   
Tabrobot:
http://www.tabrobot.com/cgi-bin/tsearch.pl?mode=name&terms=%t&submit=Go%21   
YourChords:
http://www.yourchords.com/index.php?page=search&search_artist=%a&search_songtitle=%t&search_button=Search&search_button.x=0&search_button.y=0&search_button=Search